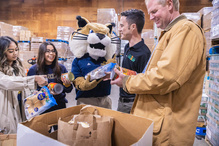 There are eight active clubs and student organizations on the UC Merced campus  that are specifically for those students who are interested in health and medical careers. Below is a list of the campus pre-med clubs with links.
Organization Name
Description

American Medical Student Association at UC Merced

"It takes more than medical school to make a physician."

Steven Gonzalez (President)
Sgonzalez229@ucmerced.edu

Mission Statement: AMSA at UC Merced is where student idealism is transformed into meaningful public service, innovation and institutional change.

Description: AMSA National is committed to improving health care and healthcare delivery to all people; promoting active improvement in medical education; involving its members in the social, moral and ethical obligations of the profession of medicine; assisting in the improvement and understanding of world health problems; contributing to the welfare of medical students, premedical students, interns, residents and post-MD/DO trainees; and advancing the profession of medicine.

The brothers and sisters of Delta Epsilon Mu are committed to serving the community by advocating health education, health care, and active participation in service activities, fundraising, and outreach programs. Members are given the opportunity to directly participate in health-oriented workshops and discussions, thereby attaining access to pertinent academic and career information through association with professors, advisors, career professionals, alumni members, and fellow active members.

Friends of MSF (Medecins Sans Frontieres)

Kylie Muzzall (President)
ucmerced@msfchapter.org 

Friends of MSF at UC Merced is committed to raising awareness for global health inequities and humanitarian issues. We aim to create fundraising and advocacy campaigns to support Doctors Without Borders work overseas and in the USA.

Jessica Hernandez Castaneda (President)
jhernandez396@ucmerced.edu

Mission Statement: Global Medical Training was created by Dr. Wil Johnson in 2003 and founded at UC Merced in 2014. Global Medical Training is an International Humanitarian Organization with a primary mission to provide free medical-dental services to communities in Central & South America. Our goal is to provide students with the skills necessary in the healthcare field by offering students, professionals, and others an international experience in which they can develop an understanding of medicine, dentistry, and preventative care.

Minority Association of Pre-Health Students (M.A.P.S)

Jessicina Crawford (President)
mapsucm@ucmerced.edu 

Mission Statement: MAPS provides under-represented Pre-Medical students with knowledge, skills, and experience that are both prerequisite and concomitant to professional development in health care fields. MAPS aims to improve minority matriculation into all Pre-Health professions, with an emphasis on medicine.

Phi Delta Epsilon Medical Fraternity

"Facta Non Verba - Deeds Not Words"

Cieanna Vongsa (President)
cvongsa@ucmerced.edu
phideucm@gmail.com 

Mission Statement: Phi Delta Epsilon International Medical Fraternity creates physicians of integrity with a lifelong commitment to our guiding principles of philanthropy, deity, and education through fellowship, service, mentoring, and formal training in leadership, science, and ethics.

Pre-Med Central: Your Allies, Community, and Support

Cynthia Orozco (President)
Corozco25@ucmerced.edu

Mission Statement: PMC's purpose is to inspire and nurture future physicians and their goals of providing: fair, quality patient care through interpersonal development; education; and leadership experiences.

We are dedicated to providing resources, support, and guidance to students seeking a career path in medicine. We aim to provide a safe and inclusive environment for undergraduate students at the University of California, Merced. PMC aims to increase the number of students applying to medical school, as well as creating well rounded and diverse future physicians.

Society for Medical Sciences

Omnibus se Acomodat Rebus, Omnia Novit

They who apply themselves to all things, know all things

Samuel Arda (President)
sarda@ucmerced.edu 

Mission Statement: The Society for Medical Sciences aims to explore medical-related research articles and case reports to follow the direction of current scientific areas related to clinical medicine and scientific merit. We hope to promote and enrich the understanding of the union between medicine and science as interconnected bodies and protect the integrity of both entities.