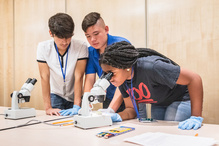 Although there are at least 50 high schools in the San Joaquin Valley that have Pre-Health or Pre-Med academies through the National Academy Foundation (NAF), linked learning programs or Career and Technical Education (CTE) pathway programs, not all students interested in a medical career path will have this kind of support available. This website is intended to provide information and support for all students interested in pursuing a medical degree.
UC Merced provides services for K-12 students who need an introduction to their medical education interests, or who simply want further resources. Resources specific to 9th-12thgraders can be found on our "High School Resources" link. UC Merced also prepares many pre-med students, resources that have been helpful to them can be found in our "Undergraduate Resources" page.
Students can also find a clear description of the Pathway to Medical School here in the Pathway to Medicine section which includes: classes you should take to prepare; information about job-shadowing and research opportunities; where to get counseling at the University; admissions requirements and exams to get into medical school; and ways to pay for your education. Information about financial aid and other resources can be found here.
The first step for high school students who want to prepare for medical school at UC Merced is to complete the following requirements to apply:
Admission Requirements
We encourage all eligible students to apply. To be considered for admission to UC Merced, you must satisfy the following minimum UC Admissions requirements (full list and more detailed information is available by clicking here):
1. Academic Requirements
High school diploma or equivalent
GPA of 3.0 or above (nonresident: 3.4)
2. Course Requirements
Complete a minimum of 15 college-preparatory courses, with at least 11 finished prior to the beginning of your senior year. These courses must be completed with grades of C or better. Be sure that the classes you take are on your school's "A-G" Course List. Obtain your school's list from your counselor or University of California "A-G" Course Lists.
Paths to Admission for California Residents:
Local Path | Eligibility in the Local Context (ELC) 
If you are designated in the top 9 percent of your class, you are encouraged submit an application to our campus. Being designated in the top 9 percent of your class is a characteristic UC Merced values.
Statewide Path
Complete a minimum of 15 college-preparatory "a-g" courses, as detailed above. Meeting the statewide path is a factor UC Merced values.
Alternate Paths
Meeting the criteria for "admission by examinations alone" and "admission by exception" are alternate paths. Factors UC Merced considers in determining admission via an alternate path are discussed on the Selection Process page.