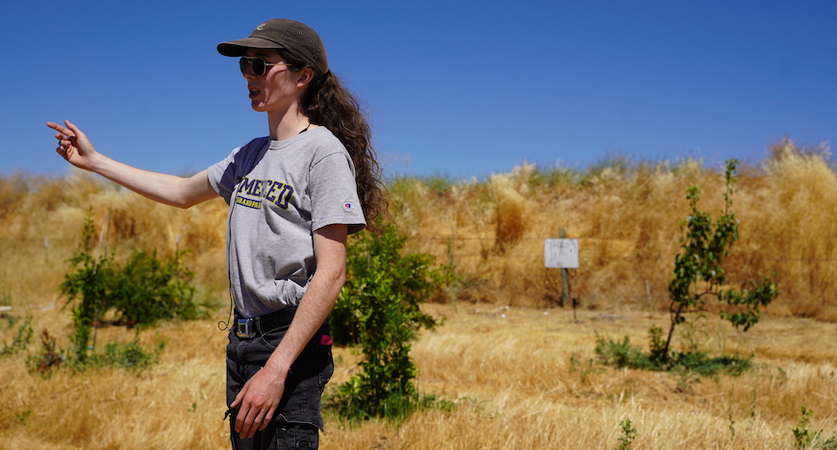 For UC Merced students working to maintain the campus's Experimental Smart Farm this summer, the day's tasks can range from the high-tech to the grubby.
Kat Corti and Austin Mercado, both fourth-year students come fall, are spending their summer tending the farm and preparing it for what's next. Also working at the farm this summer is Adam Mercado, Austin's twin brother.
Showing visitors around the farm to see their work on a recent day, Corti, a global arts major, and Austin Mercado, a biological sciences major, pointed out the irrigation system, which pumps water from one side of a field. Currently, much of the farm area is planted with winter forage crops.
"You can see how the other side of the field is lower, so the water travels down," Corti said.
They also stopped to check out one of the farm's weather stations, which collects various data for researchers, as well as providing a nesting spot for a visiting bird this spring.
"Researchers get a lot of data from that," Corti said. "We also have soil moisture sensors to see how effective different kinds of watering are. Data is the primary thing we farm."
A small orchard provides peaches and pomegranates, with more trees on the way. And farm operators plan to plant agave around the edge of a field to separate the farm from development planned around it.
"So, we could be making tequila," Austin Mercado joked.
The agave is one example of the many different types of specialty crops and new technologies the farm is exploring. Plans also call for the farm eventually to grow some oats, grain, tomatoes and squash.
Mercado and Corti operate the Bobcat tractor - of course there's a Bobcat, and this being UC Merced, it's named Rufus - along with a state-of-the-art electric tractor and other more typical farm equipment.
They spend their time doing everything from collecting data and filling out spreadsheets to digging out valves that get buried by wandering cows and pressure washing instruments.
"We have to log values, pumps and how long they ran, as well as additional comments," Austin Mercado said.
They are familiar enough with the cows that are leased to graze the land that they know one of them enjoys spending her time lounging near a pond next to the canal that runs through the property.
The students also help as time allows with the campus community garden, where other students, faculty and staff grow crops such as peppers, grapes and strawberries.
Though growing those plants provides their own tasty rewards, they also serve as experiments, Corti said.
"We are trying to grow strawberries in partial shade." Though strawberries like the heat, if they are effectively grown in partial shade, the crops would require less water because it wouldn't evaporate so quickly.
The shade is part of a study of agrivoltaics, said Professor Josh Viers, co-leader of the farm. The shade will be provided by solar voltaic panels, which in turn will provide electricity to power the tractor.
"We want to be able to generate our own electricity," Viers said.
The research is supported by a $65.1 million federal grant awarded to the Farms Food Future (F3), which includes representatives from UC Merced and Fresno State. F3 is launching an agricultural technology hub that will serve and connect farmers across the San Joaquin Valley to industry and spark a new, more advanced era in agriculture-based technology to boost productivity, create jobs and build capacity for regional sustainability.
Some of that work is being undertaken at the Smart Farm. It's being documented on social media, particularly Instagram and TikTok .
A recent summer recap highlighted digging out weeds around greenhouses, inspecting new equipment and some harvesting from the community garden.
A wildlife camera set up at the edge of a field has caught images of a wild boar and a coyote.
"Being adjacent to the Merced Vernal Pools and Grassland Reserve gives us a unique opportunity to study the interface between farming and nature," Viers said. He said the crops are being planted to encourage a variety of different wildlife.
Corti and Austin Mercado plan to continue working at the farm as the school year begins, though they will have to draw back on their work hours so they can attend classes and study.
Corti, from the Bay Area, and the Mercado brothers, from Delhi, said they enjoy being part of a young campus that is still emerging, and helping develop the future of farming.
"It's so cool I get to be here," Corti said. "I'm building stuff. How great is that?"